JABIL TIJUANA, MEXICO BECOMES MEDACCRED ACCREDITED FOR PLASTICS INJECTION MOLDING - FIRST IN MEXICO
JABIL Tijuana, Mexico has become the first company in Mexico to achieve the prestigious MedAccred Accreditation for Plastics Injection Molding.
Accreditation for this critical manufacturing process was achieved after JABIL met the stringent audit requirements as set by MedAccred subscribing members – leading medical device companies including Bausch Health, Baxter, BD, Boston Scientific, Edwards Lifesciences, Johnson & Johnson, Medtronic, Philips, Roche Diagnostics and Stryker.
MedAccred is unique as the only industry-managed supply chain oversight program for key critical manufacturing processes in the medical device industry.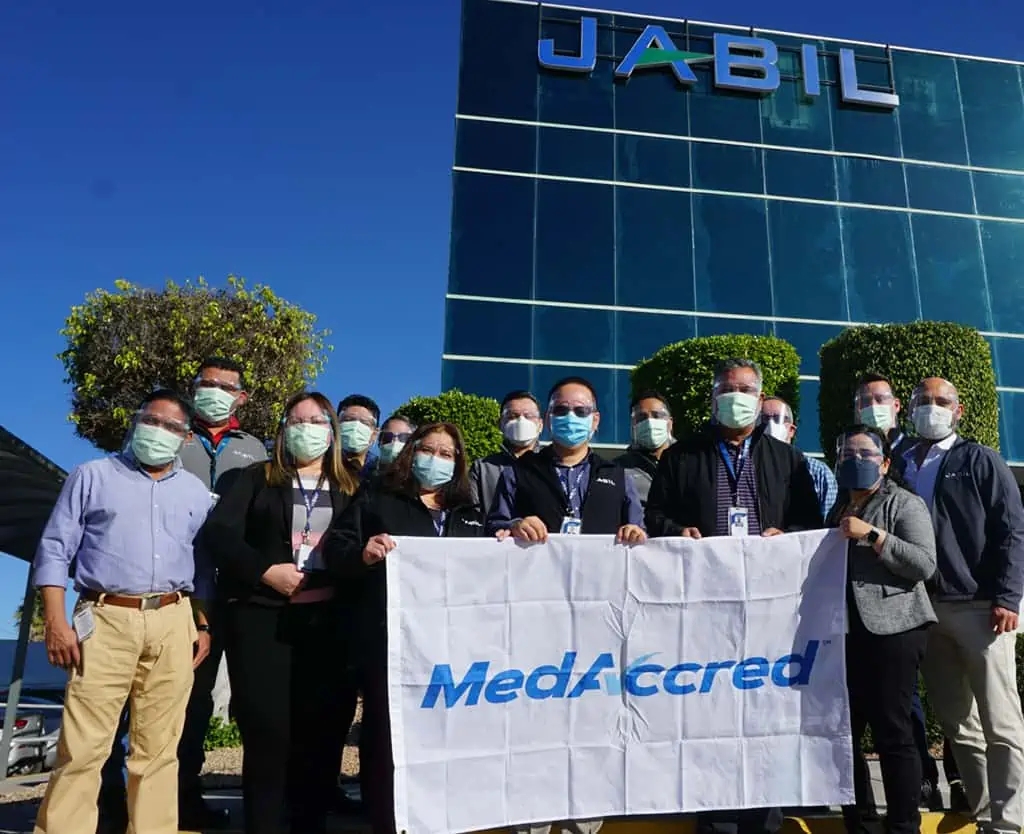 Staff from the JABIL Tijuana, Mexico facility celebrate becoming MedAccred Accredited for Plastics Injection Molding.
Connie Conboy, Director, MedAccred, said:
"MedAccred Accreditation is globally recognized as a hallmark of quality and is a major accomplishment. The medical device industry has incorporated MedAccred into its approach for handling risk, as it demonstrates compliance to industry standards, customer requirements and best practices. I commend JABIL Tijuana, Mexico for achieving MedAccred Accreditation for Plastics Injection Molding, and for their hard work which has finally paid off."
Mike Mahaz, JABIL Vice President of Global Business Units for Medical Devices & Consumer Health, commented:
"At Jabil, we successfully balance innovation and technical advances with real-world challenges. This MedAccred Accreditation is a tribute to our team in Tijuana for extending Jabil's global leadership in supply chain management, quality processes and risk mitigation. It's an honor to be the first accreditation in Mexico and to receive external validation of the quality of our comprehensive manufacturing services."
Carlos Padilla, JABIL Quality Director for Latin America, added:
"Eight years ago, Jabil integrated our sites in Tijuana to offer over 358,000 square feet of manufacturing space. Earning the first MedAccred accreditation in Mexico for this massive, state-of-the-art site opens new opportunities for healthcare companies to improve product development and production with a high-quality, global leader. This accreditation – involving meticulous audits and inspections – confirms the high quality of Jabil's proprietary processes and supply chain management. It's really another way to corroborate what our clients have come to expect from Jabil – a trusted partner that provides outstanding, reliable manufacturing services that will support the success of your medical product."